About
Slide
Work Forward is a
of people who aim to change the way we work
---
How can the business of work be better?
Working environments are in a state of constant change. New tools, platforms, and business models create challenges for organizations to stay relevant and competitive. We know there is no one solution to any of these challenges–that's why we do what we do.
Slide
On October 8, 2019, a stalwart group of leaders came together to develop a vision of how the business of work can be better. This became the first Work Forward Summit, which applied a collaborative and co-creative workshop approach to developing ideas and concepts to initiate the Work Forward conversation.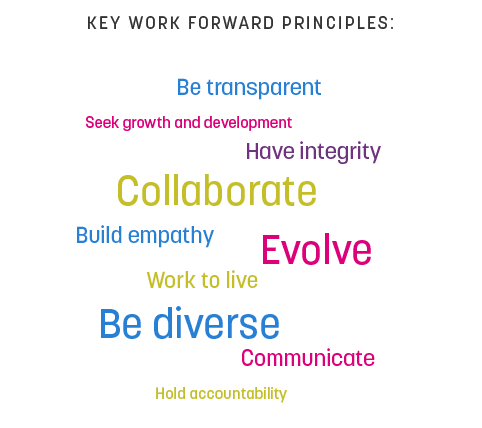 Manifesto
To help build a movement and declare the aims of Work Forward, the original Summit participants ideated a set of principles resulting in The Work Forward Manifesto. Take a look to get familiar with our mission and core values!
Slide
Since the first Summit, our goal has been to develop and apply a broader approach to work so that policymakers, business leaders, and workers can seize opportunities and conquer challenges. We continue to connect through Summits as well as online groups and events.
Slide
We are a community focused on purpose, innovation, and collaboration. Join us as the future of work unfolds!