Tools for Working Forward
Inspired? Curious? Here are our outputs from the origin Work Forward Summit, some creative illustrations, and workshop activity tools that could jump-start conversation and action at your organization.
Reference Materials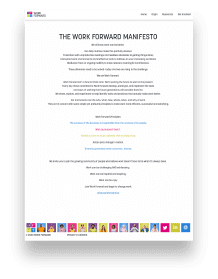 The Work Forward Manifesto WEB / FEBRUARY 2020
Work Forward Approach Poster PDF / FEBRUARY 2020
Work Forward Summit Capture MURAL / OCTOBER 2019
Activation Tools
The Challenge Wheel
The Challenge Wheel is designed to help your and your team identify the obstacles that most impact your ability to perform.
Mural